If you're hoping to spice up the lives of your Sims, in a negative way, then look no further. The Life Tragedies Mod will do all of that and more. We'll walk you through how to give your Sims accidents, illness, and more with this mod in The Sims 4.
What is the Life Tragedies Mod in The Sims 4?
In The Sims 4, there might not be enough chaos and torment cast upon Sims as some players would like. For that reason, Sacrificial Mods created the Life Tragedies Mod. Sacrificial Mod is also the creator of the popular Extreme Violence Mod.
The Life Tragedies Mod creates different horrifying scenarios that can happen to your Sims. This includes fatal diseases, car accidents, and killers. On top of this, there are more mild tragedies like school bullies and robberies.
How to download the Life Tragedies Mod in The Sims 4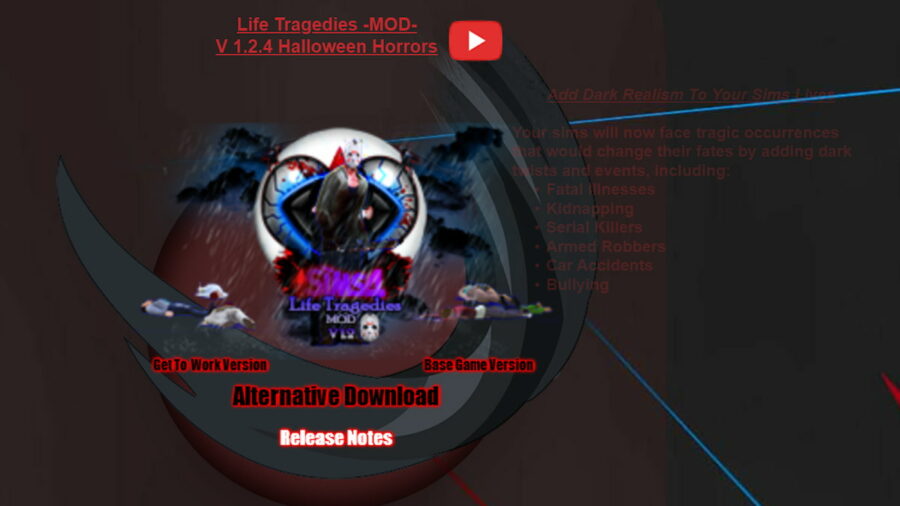 To download the mod, you'll go to the Downloads page on the Sacrificial Mods website. Scroll until you see the Life Tragedies Mod pictured above. Choose whether or not you want the Get to Work or Base Game Version, depending on which packs you own. The Alternative Download only needs to be done if the other two aren't working. Once you click the text, the download will begin. After that, follow these steps.
Extract the .zip files from the folder.
Move the files to the Mods folder. It's located along the Documents-Electronic Arts-The Sims 4-Mods path.
After this, start up your Sims 4 game. Make sure Mods are enabled within Game Options.
Want to check out more awesome mods in The Sims 4? If so, head over to Best Sims 4 Mods in 2022 on Pro Game Guides.