Our Minecraft Village Seeds post includes some great world options with nearby villages that you can begin your next world on! These are for both Bedrock and Java, so you should be able to find something you like on any platform. Villages can make your game a lot easier by giving you a place to start out and trade!
Best Minecraft 1.18 & 1.19 Village Seeds List
Best Minecraft 1.19 Java Village Seeds
Too Many Villages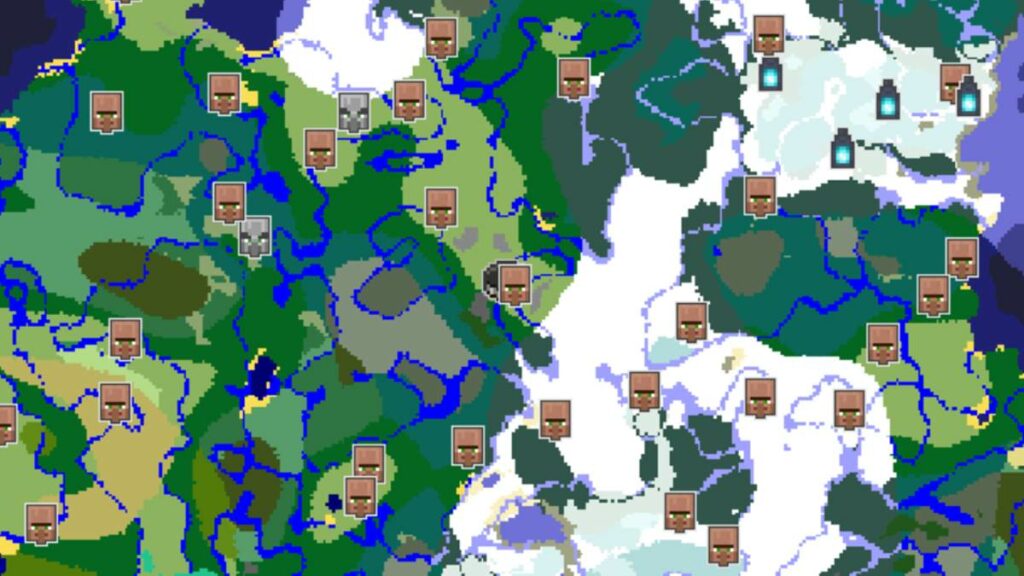 Seed: 1000036
Villages are so abundant in the spawn area on this seed that you'd have to try not to find one. Not only do you spawn inside a village, you can also walk almost any direction to find at least five villages within the first 1,500 blocks of spawn. There are multiple types, including Plains, Taiga, and Forest villages. With over 25 villages less than a Minecraft day's walk from spawn, this is the best seed for players who are looking for as many villages as possible!
Key Locations

Village: 16 0
Village: 224 688
Village: 688 544
Village: -528 -960
Village: -368 -400
Old Cities and New Villages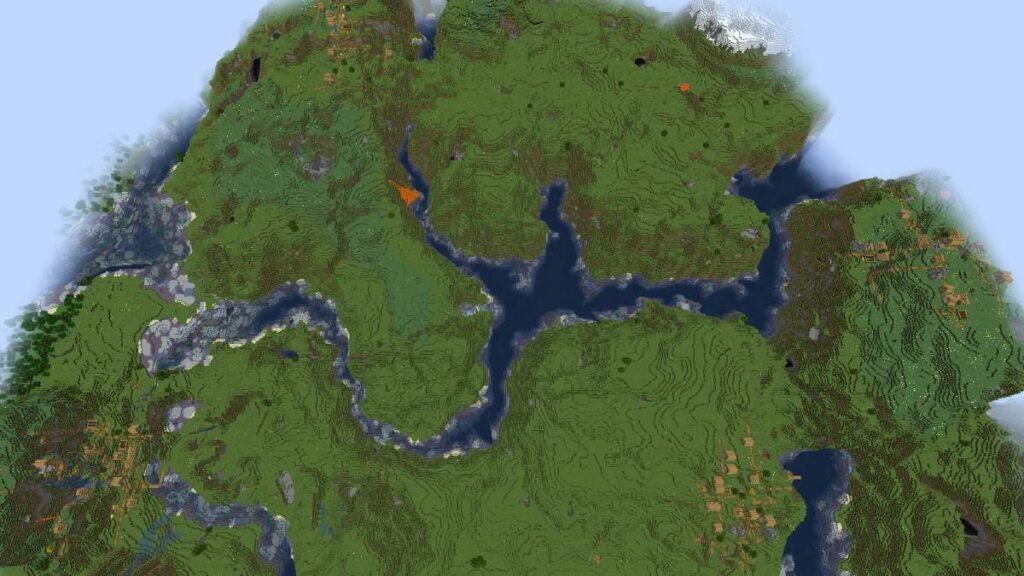 Seed: -6367239042471136353
If you are looking for access to villages as soon as you start the world, you need look no further than this seed. There are at least 15 villages available to you within 1,500 blocks of spawn, which means ample resources and plenty of safe havens to protect you from the harsh Minecraft world. Once you have visited all the villages and you're properly prepared, you can protect them from the evil in the five Ancient Cities and four Pillager Outposts that are also within 1,500 blocks of spawn!
Key Locations

Village: 112 64
Village: 304 -144
Village: -752 -176
Village: -464 48
Village: -272 -416
The Desert Temple Village and Outpost War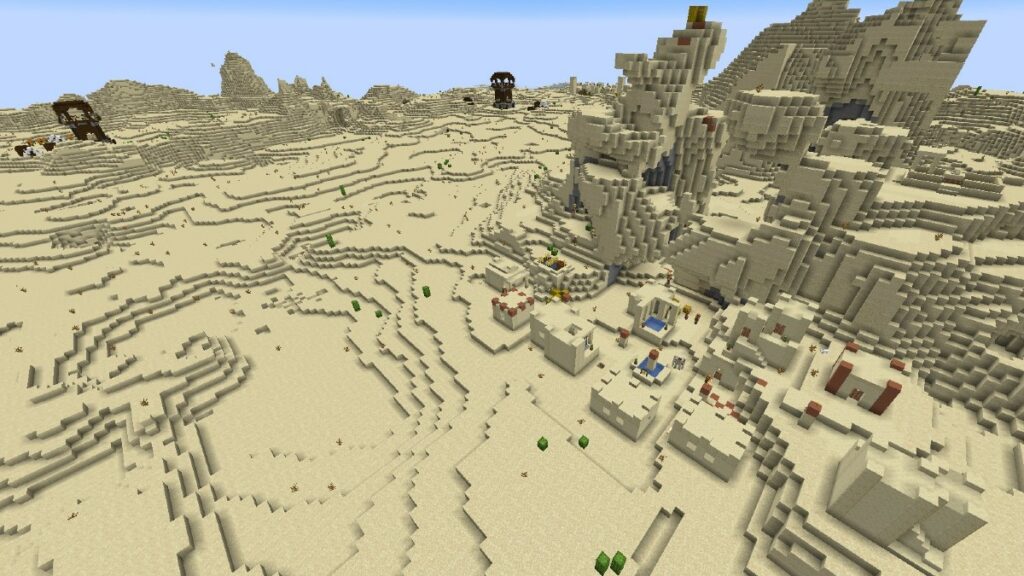 Code: 19000503
In this seed, you begin your adventure in the middle of a Desert village. Within a 750 block radius, you will find five other Desert Villages, two Desert Outposts, and four Desert Temples. This high number of structures and civilizations suggests that there may be some intense land battle between the opposing sides, all of them ripe with resources. You will also find a Mangrove Swamp only a couple hundred blocks from spawn, which gives you the perfect opportunity to explore the The Wilds 1.19 update!
Key Locations

Spawn Village: 0 0
Village: 48 -400
Village: -512 -288
Village: -736 48
Village: -320 208
Outpost: -144 176
Outpost: 32 256
Desert Temple: 248 -840
Desert Temple: -296 -408
Desert Temple: 216 -216
Desert Temple: 120 120
Desert Temple: -696 -184
Best Minecraft 1.19 Bedrock Village Seeds
Desert Village Tower
Seed: -9036966008009856678
We chose this seed as one of our best Village seeds because of how incredibly unique and fascinating the village is near spawn. Just a couple dozen blocks away is one of the most unlikely Village formations we've seen—it generated on a multi-tiered desert pillar and each house has its own platform. This map fits as a perfect setting for an Adventure-mode story or even a quaint setting for your Survival world. There is also an Oceam Monument about 100 blocks from spawn!
Key Locations

Desert Village Tower: -168 -312
Ocean Monument: -120 152
Shipwreck: 56 -232
Desert Temple: 344 -760
Buried Treasure: 72 -120
The Villages on Meadow Mountain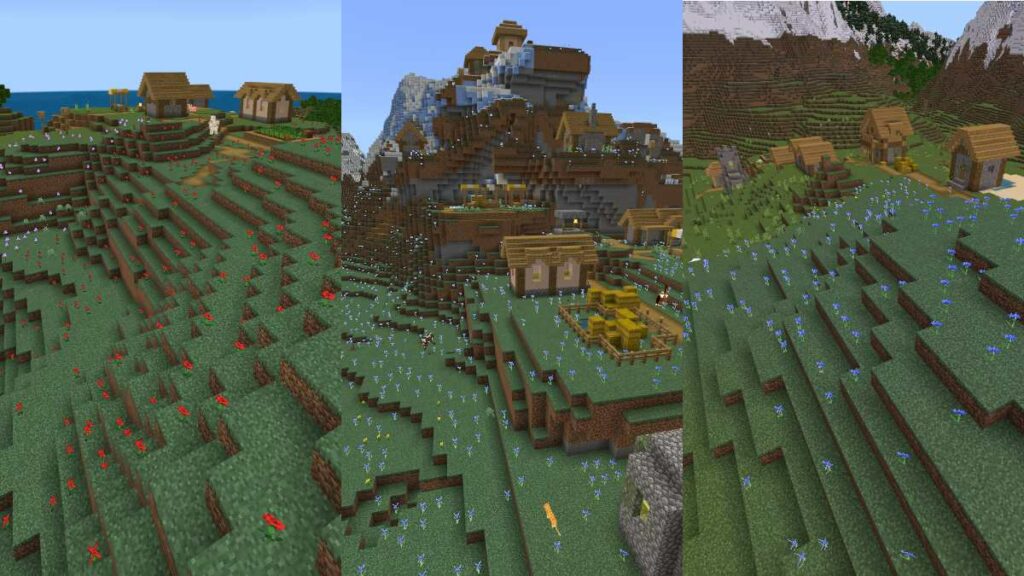 Seed: 2595113116242317821
You don't spawn next to a village on this seed, but the beauty of the three closest villages makes the short walk to them well worth the adventure. There are three villages within a few hundred blocks of spawn that are on the outskirts of a massive ring of Meadow Mountains. Each village has its own field of flowers and offers the serene feeling everyone wants to experience in a casual Minecraft world. When you're ready, you can move to the valley in the ring of mountains and build your own village in the Flower Plains biome you find there!
Key Locations

Flower Village: -392 -344
Flower Village: -856 -488
Flower Village: 40 -792
Ancient City: -280 -584
Ancient City: -616 -216
Mangrove Swamp Village Mishap
Code: 67561815575817929
This is the perfect village seed to use when initially exploring the overworld in the Minecraft 1.19 The Wilds update. Players start in a village right on the edge of the new biomes, the Mangrove Swamp. However, the village also includes a potential glitch in the world generation for the new update: one of the houses is split in half and replaced by a broken Nether Portal. We're not sure if this was a villager's experiment gone wrong or some other happenstance. Regardless, it's still an awesome thing to see!
Key Locations

Village and Nether Portal: 42 13
Village: 256 -456
Buried Chest: 8 -232
Buried Chest: 136 264
Jungle Temple: -136 792
Best Minecraft 1.18 Java Village Seeds
Pitch-Blacksmith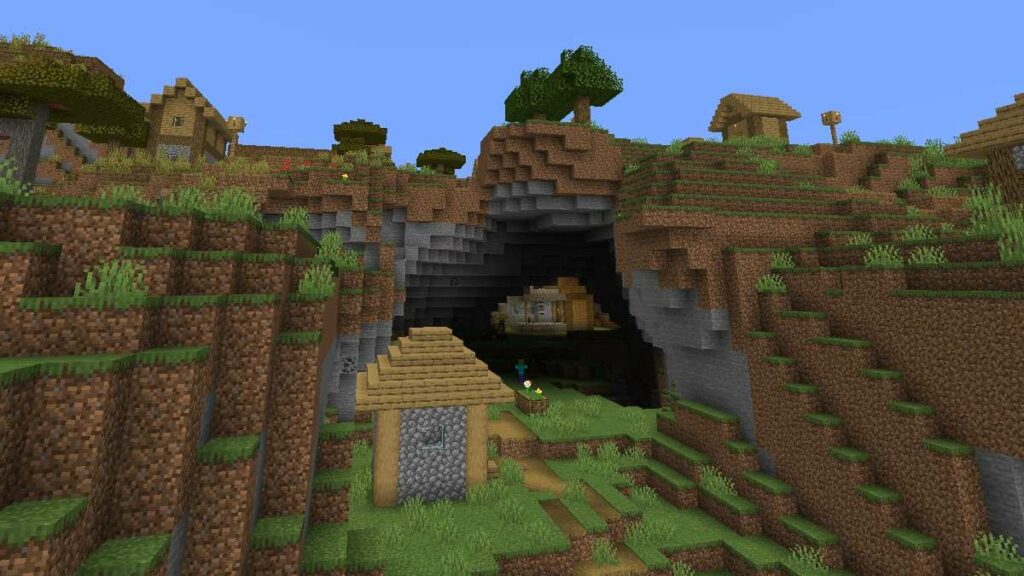 Seed: -4060839488929676108
This village seed instantly became one of our favorites because of an incredibly unique world-generation accident within. Next to spawn is a peculiar village with a blacksmith that generates underground. We don't know if this blacksmith is a mole-person or, perhaps, too introverted—but this is a rare occurrence all the same! While most of our seeds focus on getting you instant access to as many decent villages as possible, we felt this one is special and deserved to be mentioned!
Village Bonanza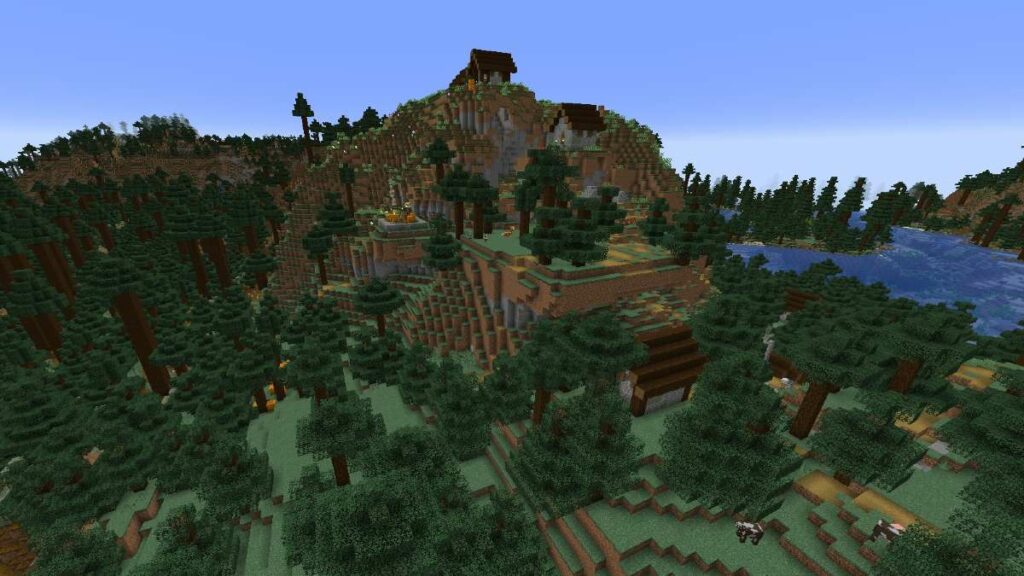 Seed: -4043078723174909697
Sometimes, you just don't want to be lonely. And sometimes, that means you need a Minecraft seed with an excessive amount of villages available for you to walk to when you first spawn. This is the seed for those situations. The villages are spread out evenly and not clustered together like in a lot of Minecraft seeds. This provides you with ample opportunity for adventure without having to worry about long stretches of isolation while you explore. There are over 20 villages to discover within 2k blocks of spawn! Think you can find them all?
Key Locations

Village: -400 176
Village: 400 272
Village: 800 176
Village: 64 720
Pillager Outpost: 32 -496
The Village and Pillage Divide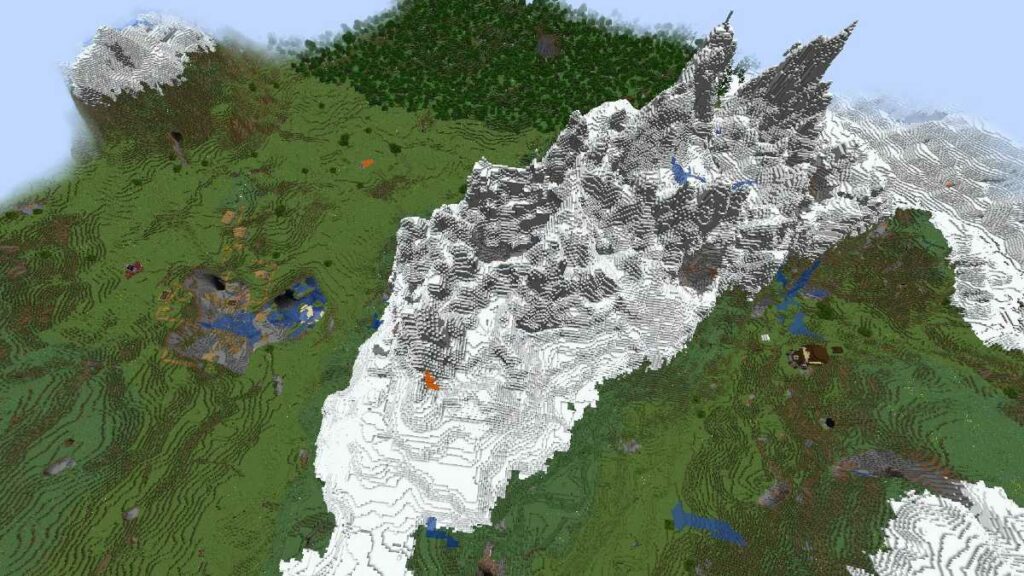 Code: -8019584034730892087
When you start this seed, you find yourself near a mountain that runs between a Village and a Pillager Outpost, both within a 300-block radius. This alone makes it a rare seed, but you may also be excited to know that there are a total of eight Villages and four Pillager Outposts within a 1,000-block radius of Spawn. Clearly, there is some sort of struggle for land control going on. Which side will you take?
Key Locations

Village #1: 224 272
Village #2: -176 -544
Village #3: -528 208
Village #4: 592 608
Village #5: 848 144

Village #6: 720 -272
Village #7: -272 -960
Village #8: -976 -208
Pillager Outpost #1: 240 -160

Pillager Outpost #2: -672 608
Pillager Outpost #3: -496 -512
Pillager Outpost #4: 176 -816
Best Minecraft 1.18 Bedrock Village Seeds
Smithtown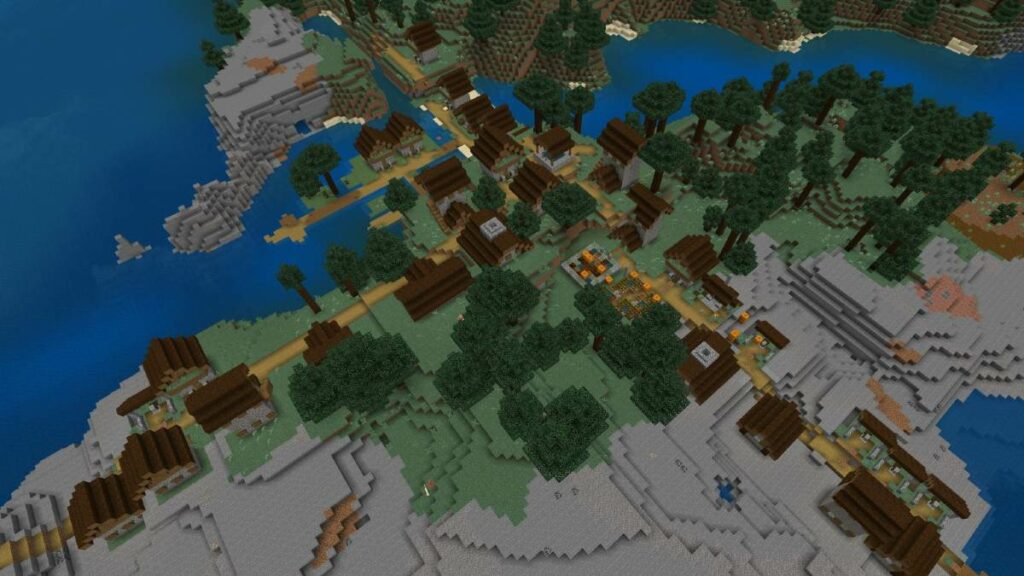 Seed: 952520698404159
Never before have we seen a village with so many blacksmiths. In this seed, you spawn close to a town with over 10 blacksmiths, all of which have their own chests with plenty of helpful resources—especially for the early game. This makes this an excellent seed to for a speedrun and the perfect seed for players who want a worry-free start to their adventure. However, Smithtown is a big village that expands tall and wide. You'll have your work cut out for you trying to defend the village if you play on hard mode!
The Mountain Lair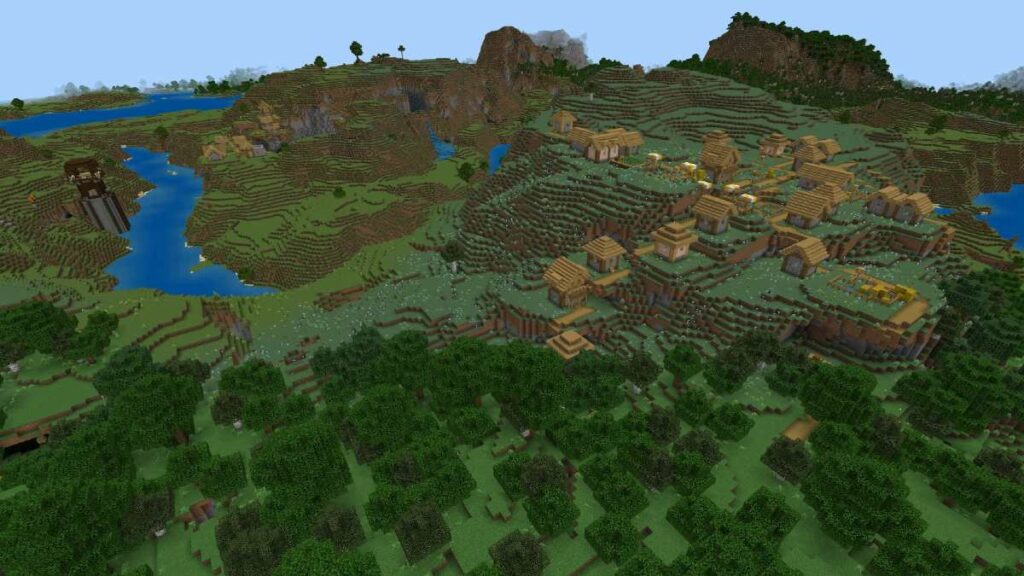 Seed: 1090899386
If you always wanted to be the villain or part of the unsuspecting village, here is your chance. This seed spawns you near two villages and an outpost. One village generates on top of hollowed out mountain, which is the perfect setup for an underground lair. Perhaps this is a plot from the nearby Outpost to destroy the town? Regardless of the story you make of it, this is truly a beautiful seed with plenty of structures and wondrous views available to you right at the start!
Key Locations

Mountain Village: 280 296
Pillager Outpost: 424 520
Village: 328 584
Ocean Monument: -328 -488
Shipwreck: 152 -232
Shipwreck: -152 -200
Mountain Faceoff
Seed: 8624896
This seed started off as one of 1.18's best seeds, and it continues to hold that title. You spawn next to a beautiful ring of mountains and within walking distance of two mountainside villages. Not too far away are two ominous Pillager Outposts, ready to cause trouble. Is this seed a battle for control of the mountain between good and evil?
Key Locations

Village: -216 -264
Village: 232 232
Pillager Outpost: -584 296
Pillager Outpost: 200 536
Ruined Portal: -280 40