Genshin Impact : Kaeya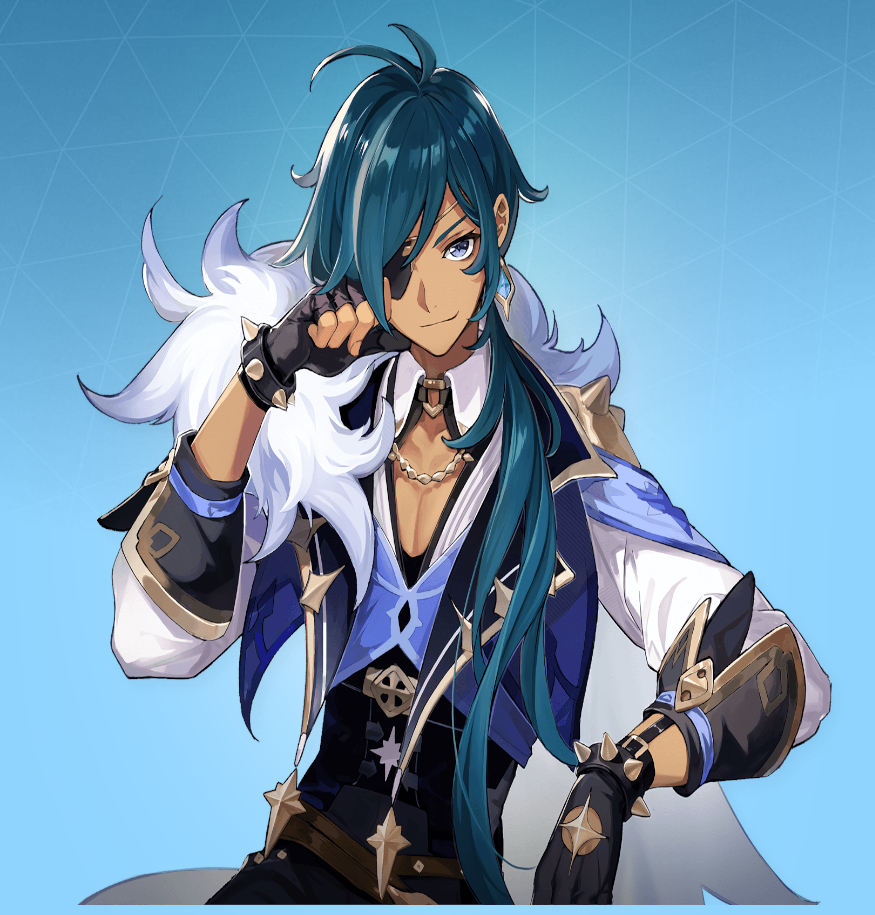 In the Knights of Favonius, Kaeya is the most trusted aide for the Acting Grand Master Jean. You can always count on him to solve any intractable problems. Everyone in Mondstadt loves Kaeya, but no one knows what secrets this witty, charming knight has...
Details
Rarity:
Role: Sub DPS
Element: Cryo
Weapon: Sword
Tier: B
Gender: Male
Voice Actor:

Josey Montana McCoy (English)
Kōsuke Toriumi (Japanese)
Ye Sun (Chinese)
Jeong JuWon (Korean)
Strength & Weaknesses:
| | |
| --- | --- |
| Exploration | S |
| Bosses | B |
| Abyss | C |
| Support | A |
Skills Talent:
Ceremonial Bladework
Ceremonial Bladework (Normal Attack)
Performs up to five rapid strikes.
Ceremonial Bladework (Charged Attack)
Consumes a certain amount of Stamina to unleash two rapid sword strikes.
Ceremonial Bladework (Plunging Attack)
Plunges from mid-air to strike the ground below, damaging opponents along the path and dealing Area of Effect Damage upon impact.
Elemental Burst
Frostgnaw
Unleashes a frigid blast, dealing Cryo Damage to opponents in front of Kaeya.
Elemental Burst
Glacial Waltz
Coalescing the frost in the air, Kaeya summons three icicles that revolve four times around him for eight seconds. These icicles will follow the character around and deal Cryo Damage to opponents in their path for so long as they persist.
Passive Talents:
Hidden Strength | Unlocked Automatically
Decreases sprinting Stamina Consumption for all party members by 20 percent.
Not stackable with other Passives that provide the same benefit.
Cold-Blooded Strike | Unlocked at Ascension 1
Every hit with Frostgnaw regenerates Health for Kaeya equal to 15 percent of his Attack.
Glacial Heart | Unlocked at Ascension 4
Opponents Frozen by Frostgnaw will drop additional Elemental Particles. Frostgnaw may only produce a maximum of two additional Elemental Particles per use.
Constellations:
Each Constellation activation requires a Stella Fortuna.
Excellent Blood | Constellation Lv. 1
The Critical Hite Rate of Kaeya's Normal Attack and Charged Attacks against opponents affected by the Cryo is increased by 15 percent.
Never-Ending Performance | Constellation Lv. 2
Every time an enemy is defeated when Glacial Waltz is activated, its duration is increased by 2.5 seconds, up to a maximum of 15 seconds.
Dance of Frost | Constellation Lv. 3
Increases the Level of Frostgnaw by 3. Maximum upgrade level is 15.
Frozen Kiss | Constellation Lv. 4
Triggers automatically when Kaeya's Health falls below 20 percent:

Creates a shield that absorbs damage equal to 30 percent of Kaeya's Max Health. Lasts for 20 seconds.
This shield absorbs Cryo Damage with 250 percent efficiency.
Can only occur once every 60 seconds.
Frostbiting Embrace | Constellation Lv. 5
Increases the Level of Glacial Waltz by 3. Maximum upgrade level is 15.
Glacial Whirlwind | Constellation Lv. 6
Glacial Waltz will generate one additional icicle, and will regenerate 15 Energy when cast.
Ascension:
Click on the pictures to take you to more item information

Get to Level 20 and Adventure Rank 15 to make your first Ascension.
Ascension Phase 1
Adventure Rank 15 | Level 20>40

Ascension Phase 2
Adventure Rank 25 | Level 40>50
Ascension Phase 3
Adventure Rank 30 | Level 50>60
Ascension Phase 4
Adventure Rank 35 | Level 60>70
Ascension Phase 5
Adventure Rank 40 |  Level 70>80
Ascension Phase 6
Adventure Rank 45 | Level 80>90
Talent Upgrade:
Click on the pictures to take you to more item information

Talent Level Ascension requires your character to be at Ascension Phase 2
Talent Level 1>2
Talent Level 2>3
Talent Level 3>4
Talent Level 4>5
Talent Level 5>6
Talent Level 6>7
Talent Level 7>8
Talent Level 8>9
Talent Level 9>10
Recent Genshin Impact Guides