Luxury fashion brand Givenchy has joined the Roblox Metaverse, and they've brought five free avatar items along with them! To find out how to unlock these items, hop into their Givenchy Beauty House experience and follow along with our guide below!
Earning all free items
Once you've spawned into Givenchy Beauty House, you should notice a small menu on the right side of your screen that lists multiple quests.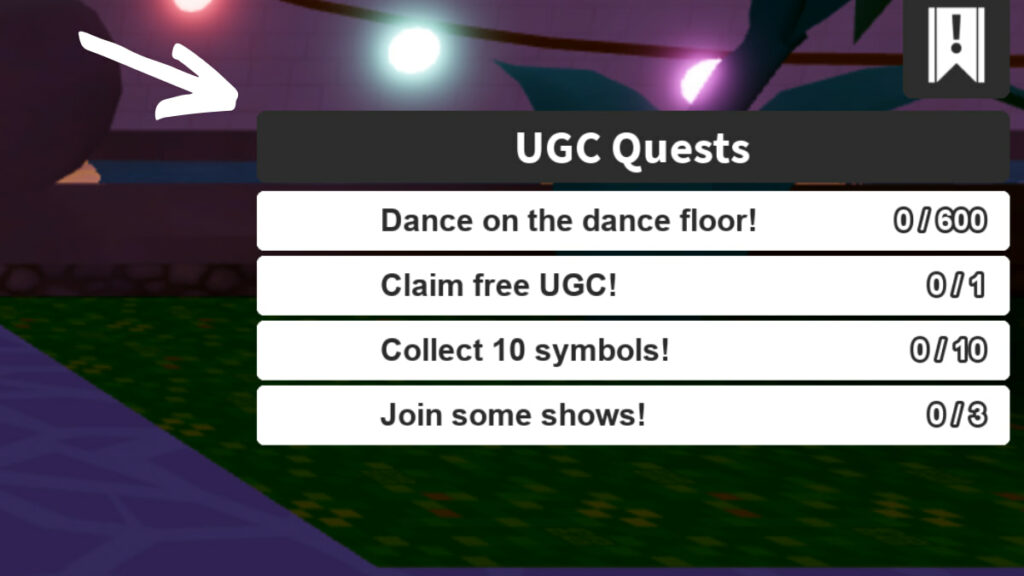 By completing these quests, you will unlock four out of the five avatar items available in this experience. For more details on completing these quests and how to unlock the fifth item, continue reading below.
Lock Necklace (1.0 & 2.0 versions)
Scattered around the Givenchy Beauty House map are golden Givenchy logos—you'll need to collect 10 of these logos in order to earn the first UGC item, the Lock Necklace (1.0 & 2.0 versions). These logos can be found relatively easily, but some are a bit more hidden than others. If you're having trouble finding any of them, check out our brief descriptions below.
Directly in front of spawn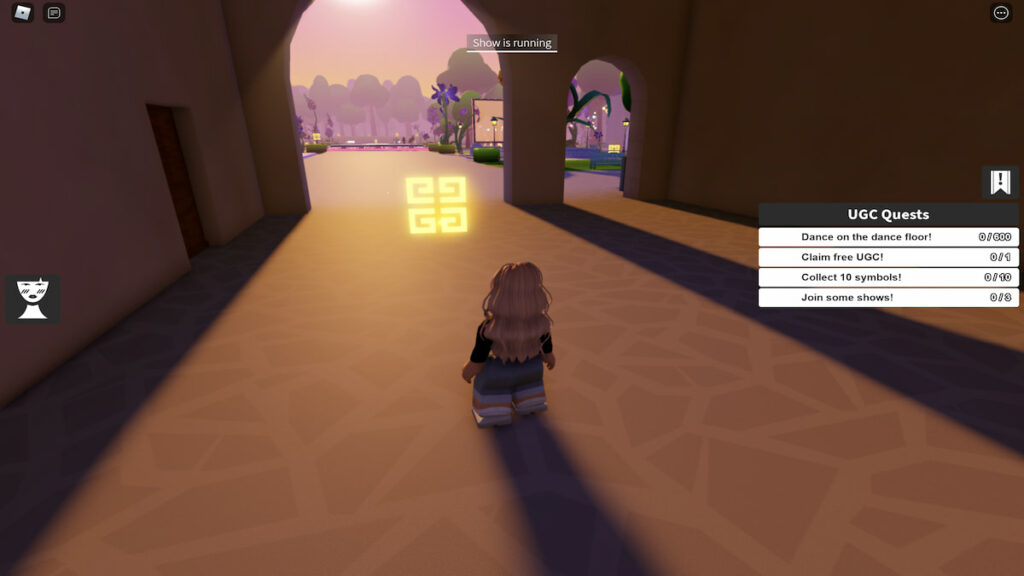 To the right of the dance floor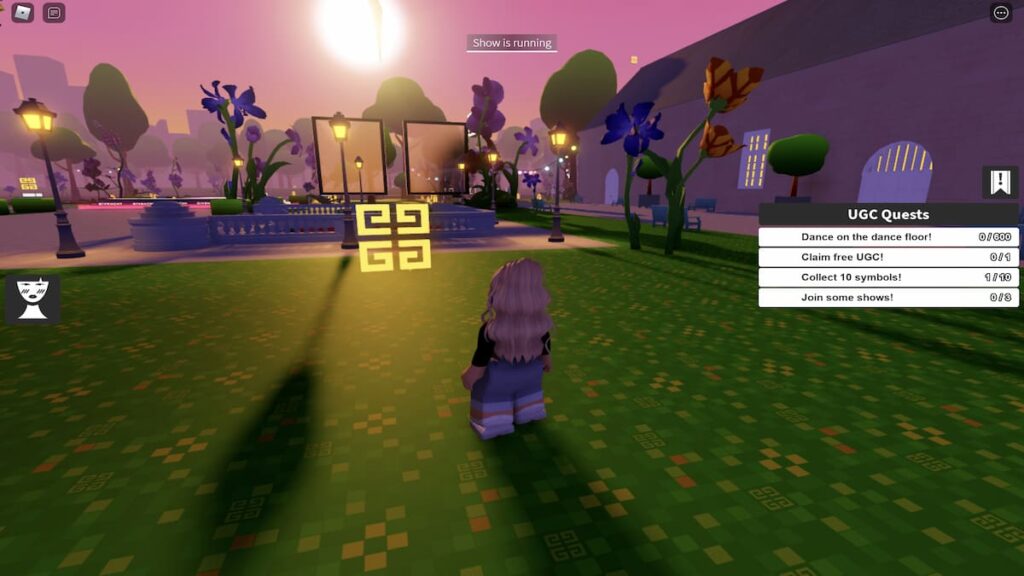 In the corner to the left of the dance floor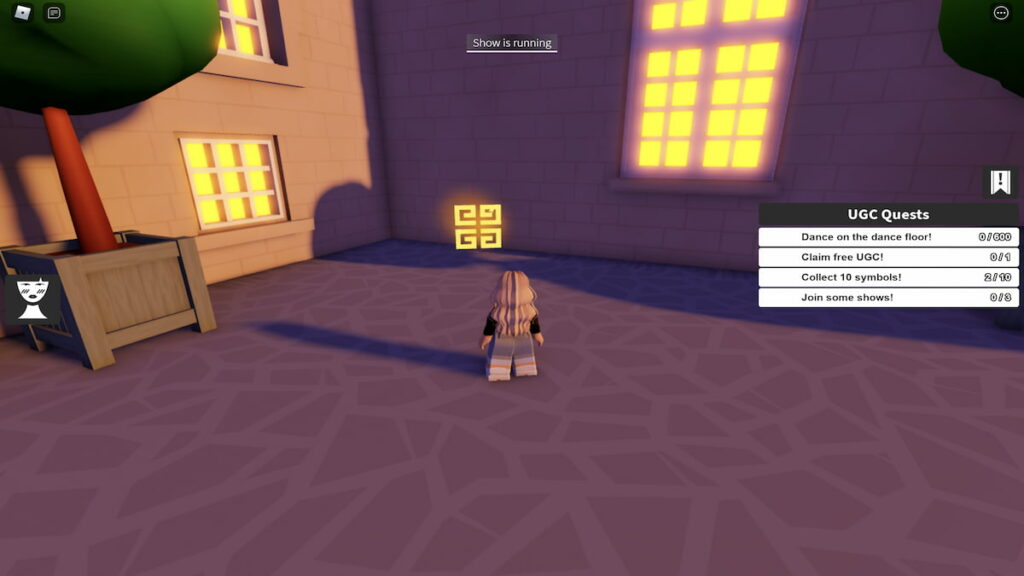 On a tree to the left of the dance floor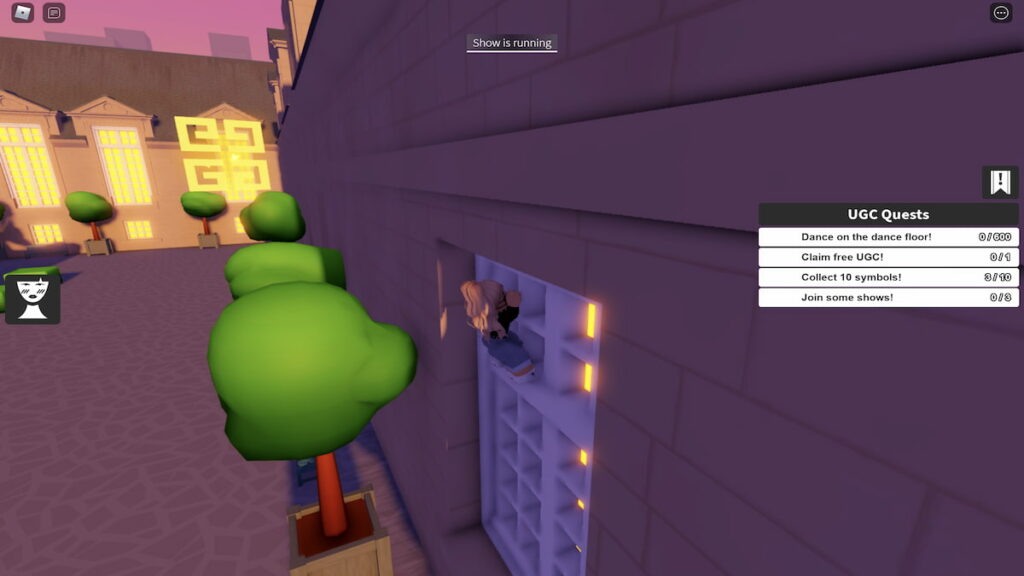 Next to the photo booth in the subway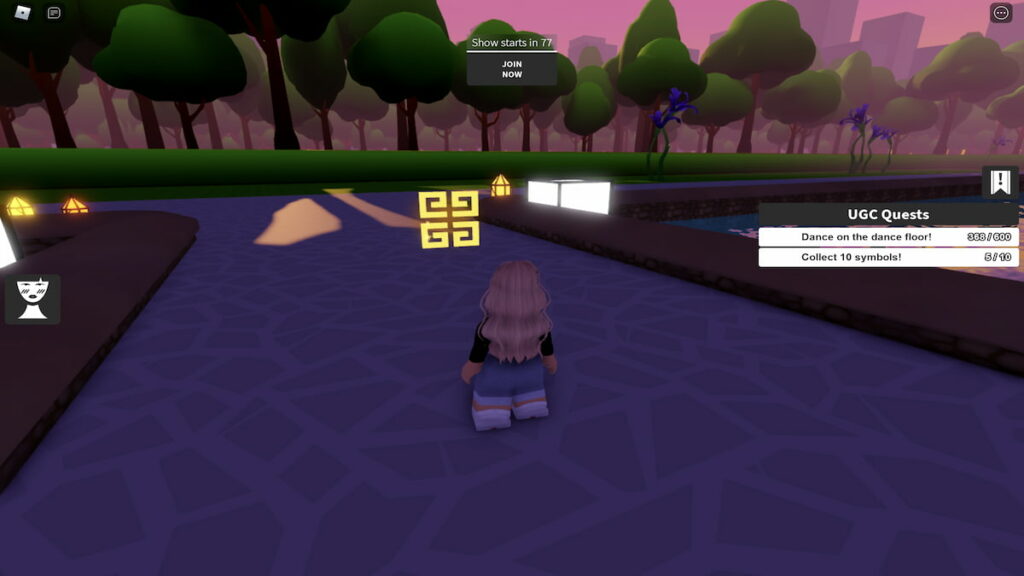 Related: Roblox Promo Codes List (June 2022) – Free Clothes & Items!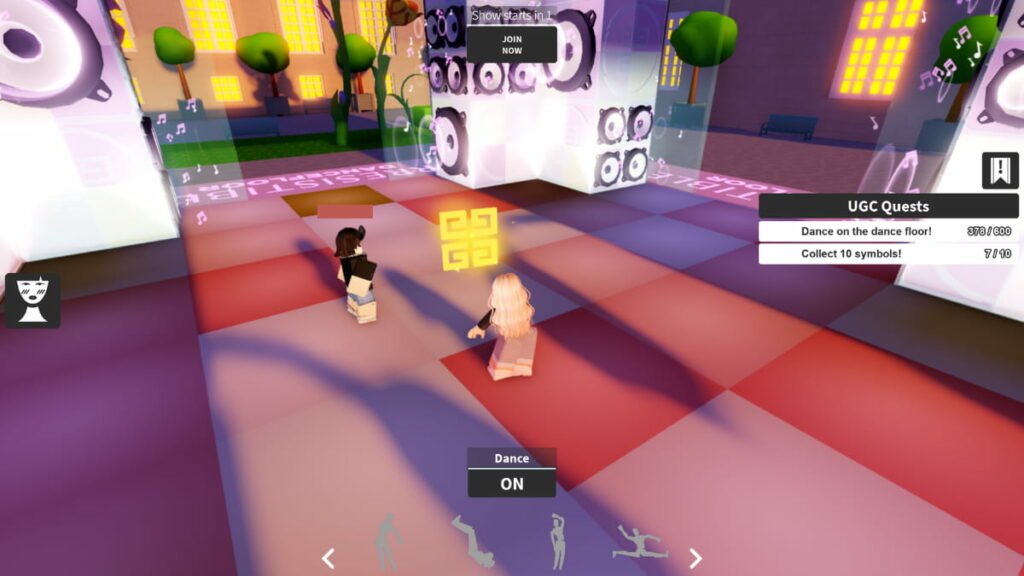 In front of the glowing cubes to the left of the dance floor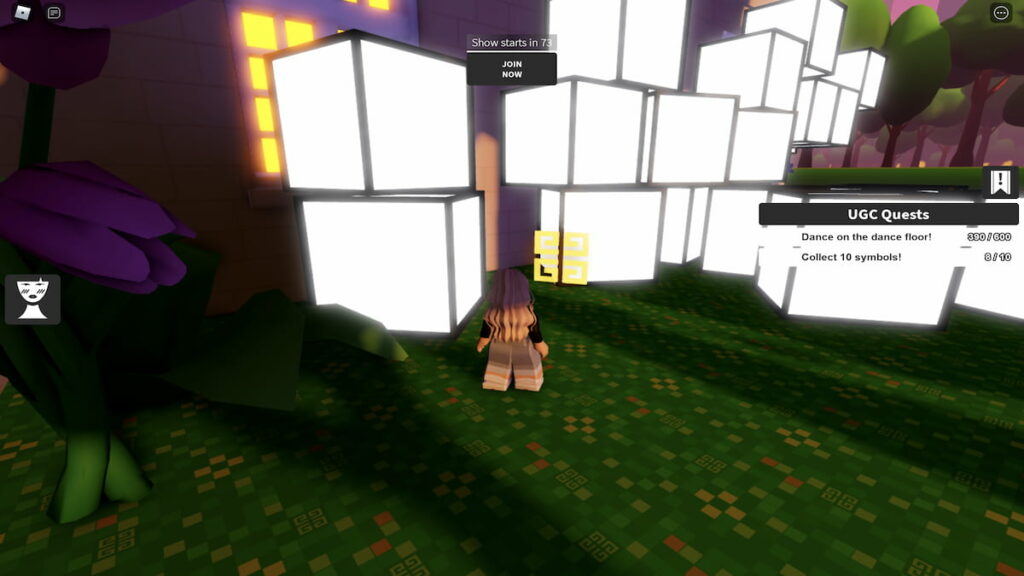 Once you've collected 10 of these logos, you should receive the pop-up below and earn the corresponding UGC item!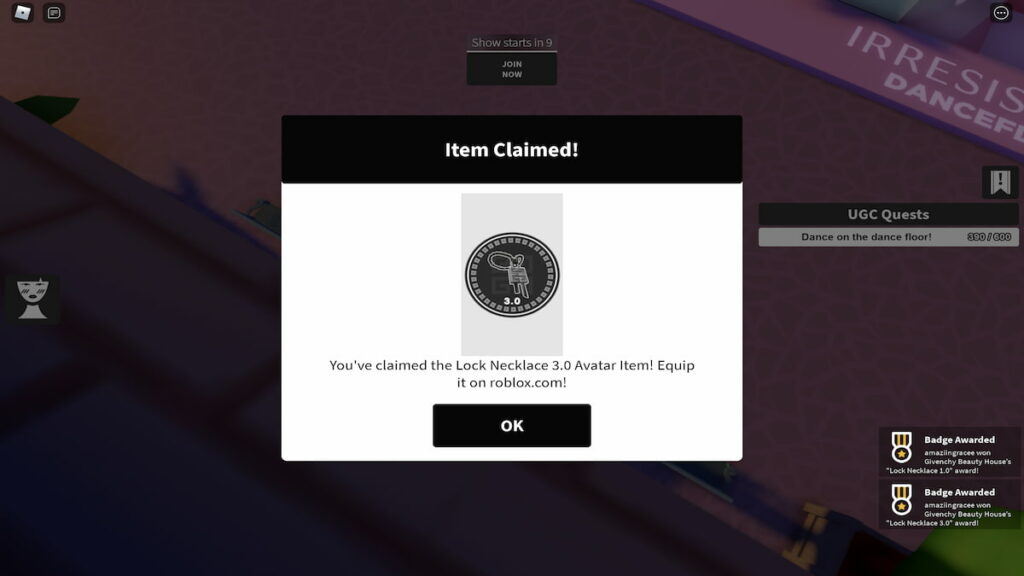 4G Cap
In order to earn the 4G Cap, players need to compete in shows at least three times. To do this, wait for the button at the top of your screen to say Join Now, then click it.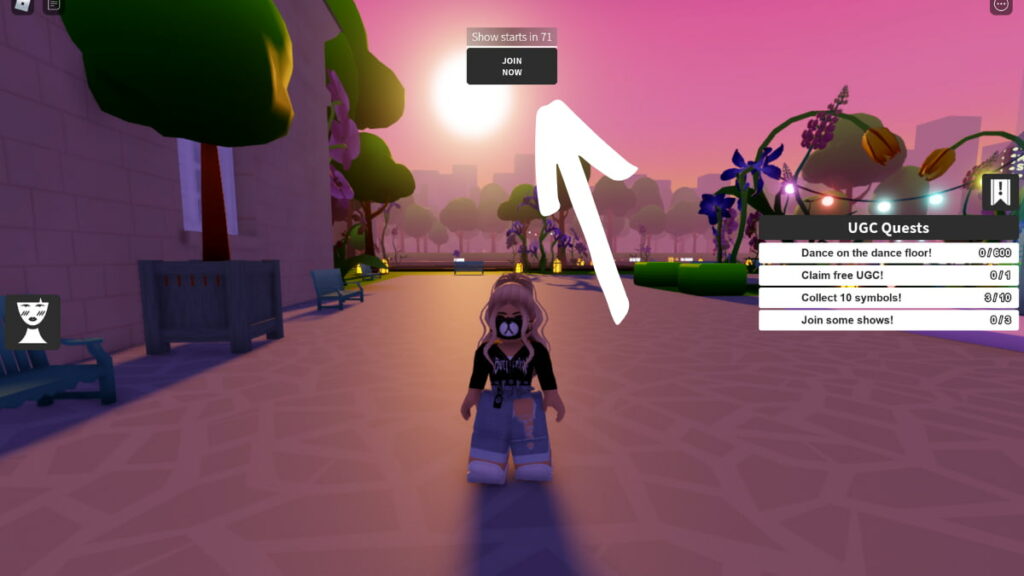 Upon doing so, a makeover menu will open that allows you to change your Robloxian's appearance.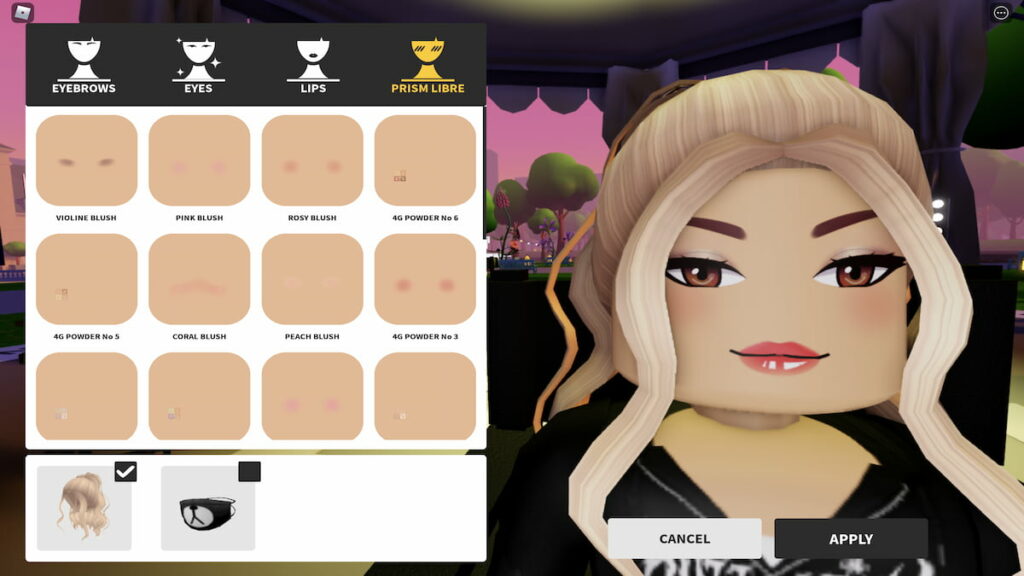 Once you've chosen a look that you're satisfied with, press Apply to close the menu. Then, you'll just need to wait for the show to start. To see how much longer you have left to wait, re-check the timer at the top of your screen.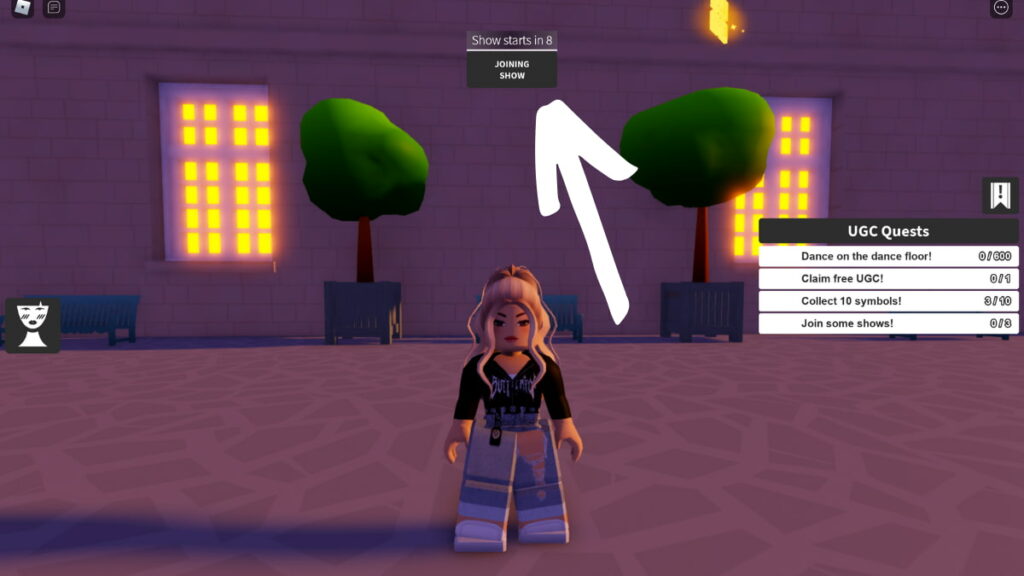 When the show starts, each participating player will take to the runway to strut their stuff. After everyone has finished, players can vote on each other's look, and the top three contestants will be placed on a podium until the next show starts.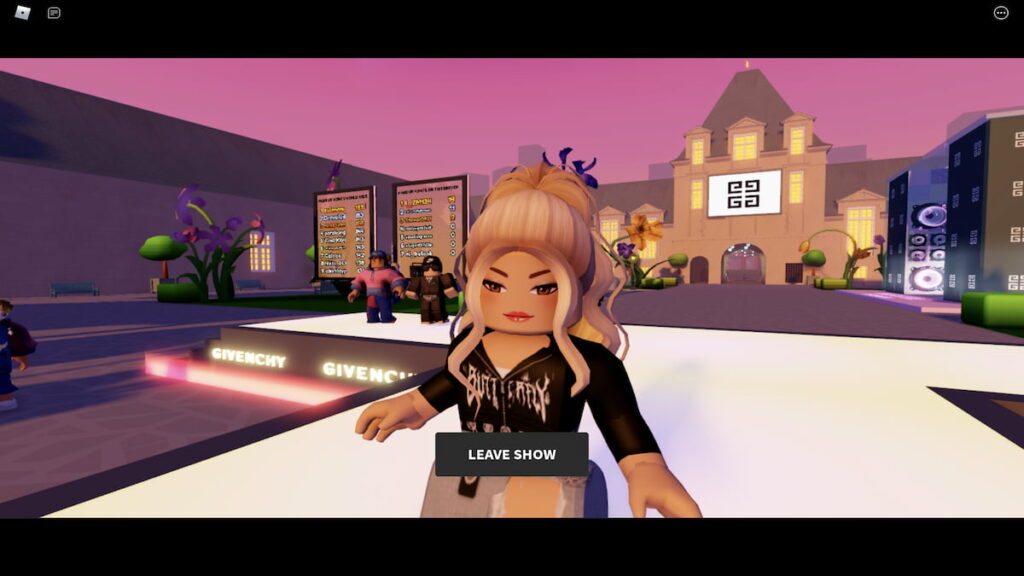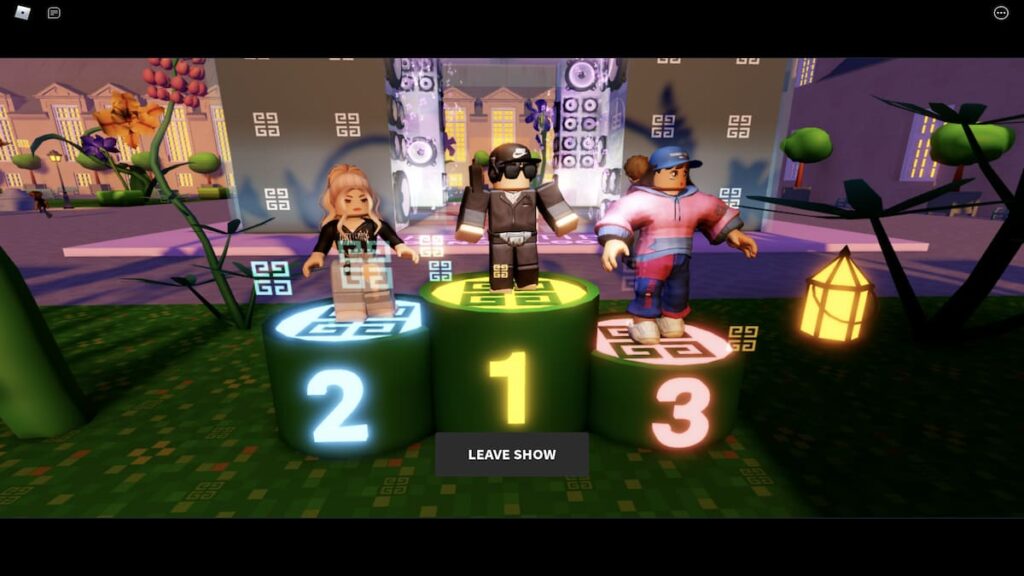 Repeat this process three times to earn the 4G Cap and its matching badge!
Irresistible Backpack (1.0 & 3.0 versions)
The Irresistible Backpack (1.0 & 3.0 versions) can be earned by dancing on the experience's dance floor for a total of 600 seconds (10 minutes). This time doesn't have to be consecutive, so you can leave the dance floor and return at any point. Once you've completed the 10 minutes, you will automatically receive the pop-up below!
Le Rouge Cross-body Bag (1.0 & 3.0 versions)
The Le Rouge Cross-body Bag (1.0 & 3.0 versions) is, in our opinion, the easiest item to obtain in this experience. To unlock it, simply enter the Givenchy subway, approach the vending machine pictured below, and hold E—doing so will claim the item!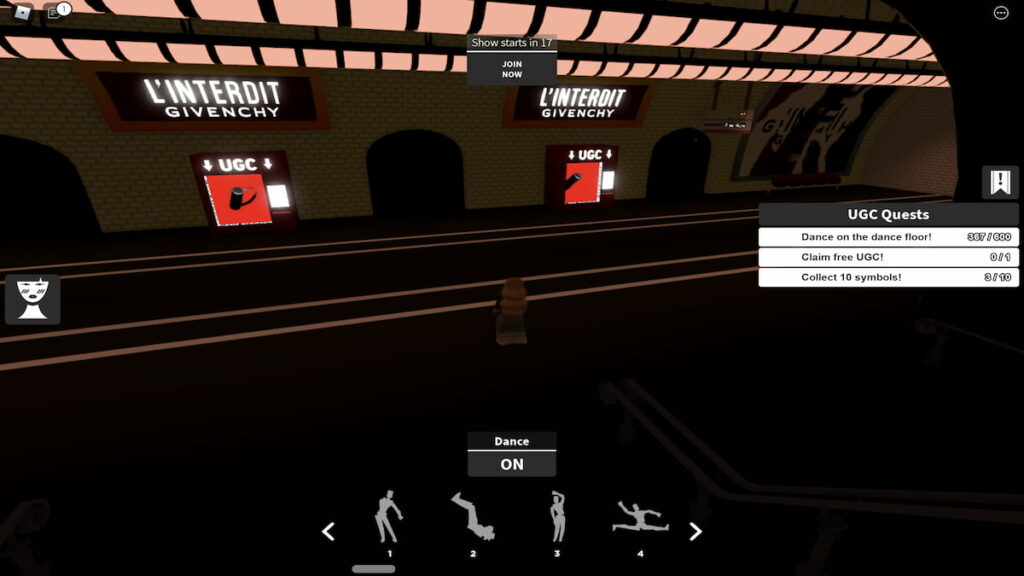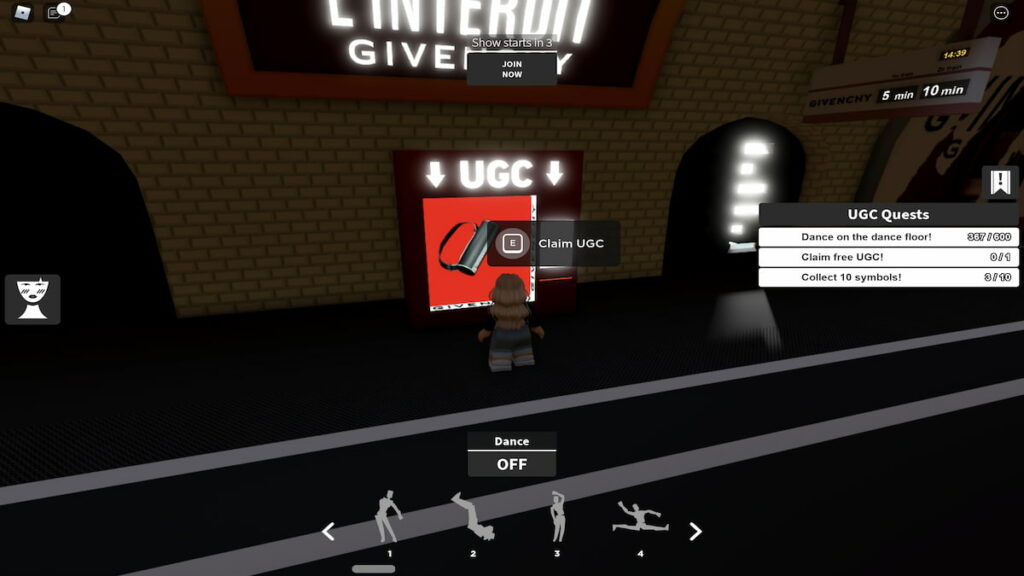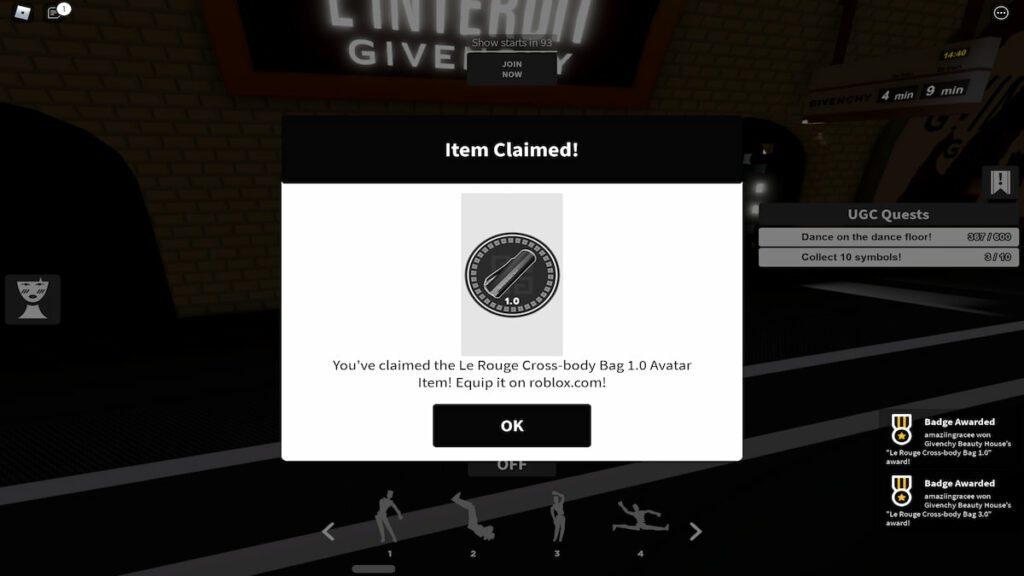 4G Sunglasses
Finally, it's time to uncover the secret item—the 4G Sunglasses. To find this item, stay in the subway and look for the photo booth pictured below that says Out of Order.
Once you've found it, walk through the photo booth's curtain—you should now be inside of a small, dark maze.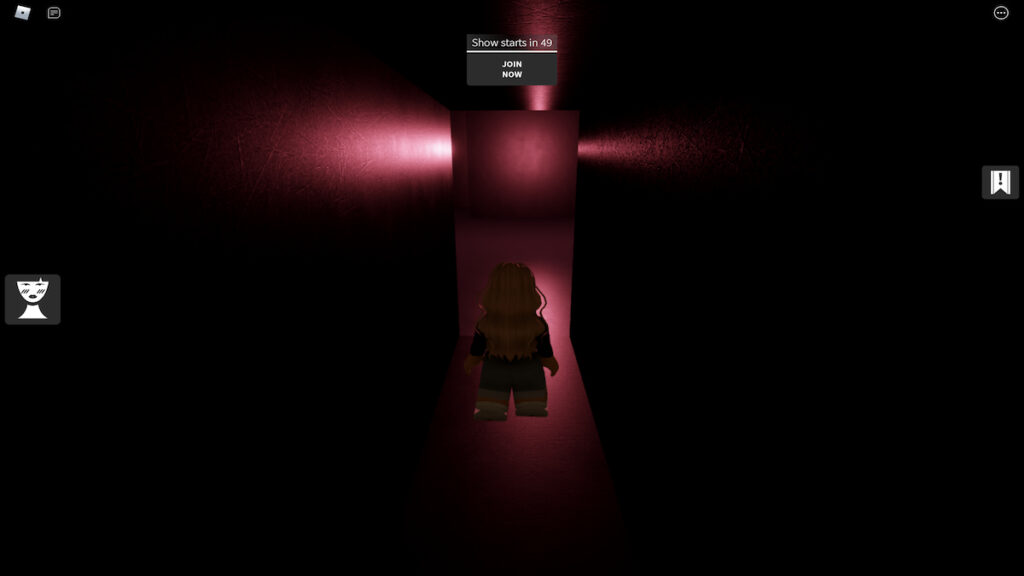 Because this maze begins to get so dark as you walk through it, it's nearly impossible to see where you're going, making it exceptionally hard to guide you through. Luckily, it isn't very long and only requires a few turns to reach the end—you shouldn't have too much difficulty maneuvering throughout it! Once you've made it to the end, the 4G Sunglasses will be waiting for you to redeem.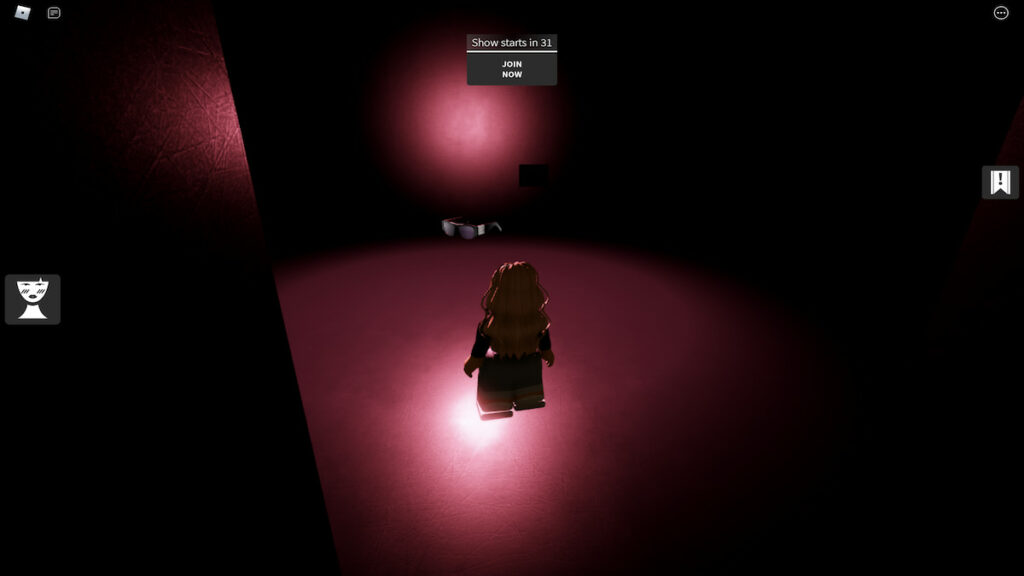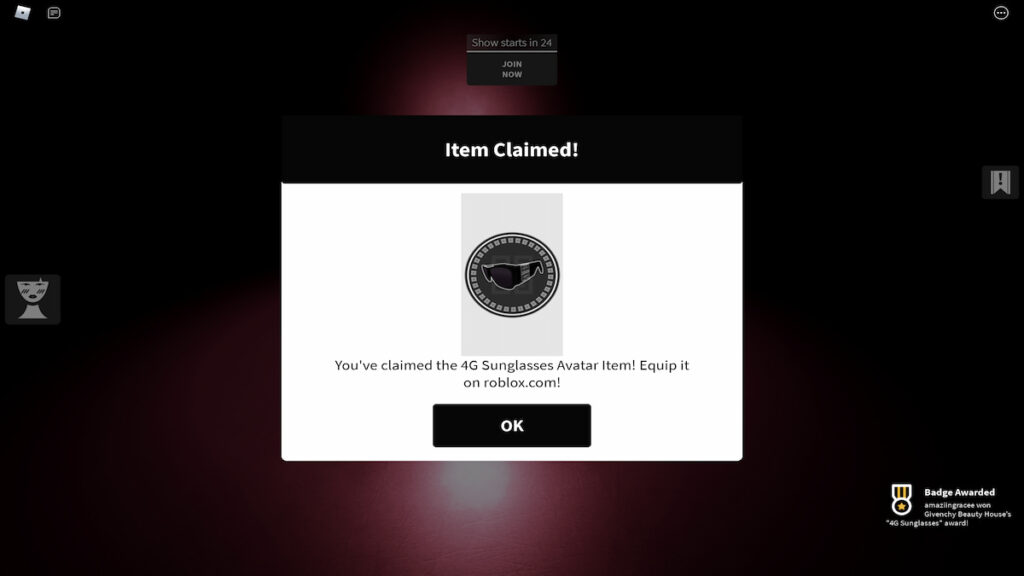 End
Congrats, you've found all of the Givenchy avatar items! If for some reason more items are added to this event, we will update this article accordingly.
Looking for more Roblox content, including free items? Check out our recent guides on How to get all free avatar items in Roblox Samsung Superstar Galaxy or How to get all free items in Roblox Clarks' CICAVERSE!