Unlike other popular Battle Royale Games, Fortnite allows you to improve your aim mechanics with the help of its several creative mode Aim Course maps. Apart from learning your aim mechanics, such custom-tailored maps also help you in understanding other game aspects like the recoil pattern of weapons, combat tactics, and your positioning during a fight.
Are you an advanced Fortnite player? Test your knowledge with our quiz: How well do you know Fortnite quiz
Best Fortnite Aim Course Codes
Here's a look at the Best Fortnite Aim Course Codes:
Ultimate Aim Training Course: 2483-7229-2827
Trickshot Deathrun - Got aim?: 0175-2829-3030
Slyjack's Movement/Peek Aim Course: 3229-2138-0756
Raider464's Aim Training Map: 6531-5731-1207
Doublendude Aim Course: 8850-5991-7075
Teadoh's Chapter 3 Warm-Up Map: 7264-2987-8032
Piece Control + Aim: 1611-0113-8283
Skaavok Aim Training: 8022-6842-4965
Warm-up Chapter 3: 9235-5574-0144
Edit + Aim Parkour Training: 4691-7411-6945
Best Fortnite Aim Course List
Ultimate Aim Training Course
Sometimes, you just need to go with the classics. TRA3-TV's Ultimate Aim Trainer has been around since Chapter 1 and is one of the the top-performing and most popular aim training maps. If you want to drop in to the familiar feel and get hone in on your master skills as a pro Fortnite player, this is one of the best maps to start!
Trickshot Deathrun - Got aim?
Code: 0175-2829-3030
This is the latest installment in a series of trickshot aim maps. If you're up to the challenge, this map provides a difficult solo experience where you must progress through the course by complete trick shots. As we know, most aim course maps provide practice for general aim training and improving your skills when everything is as it should be. This course improves your skill and reaction time to those odd instances where you need to perform a masterful shot at the perfect time!
Slyjack's Movement/Peek Aim Course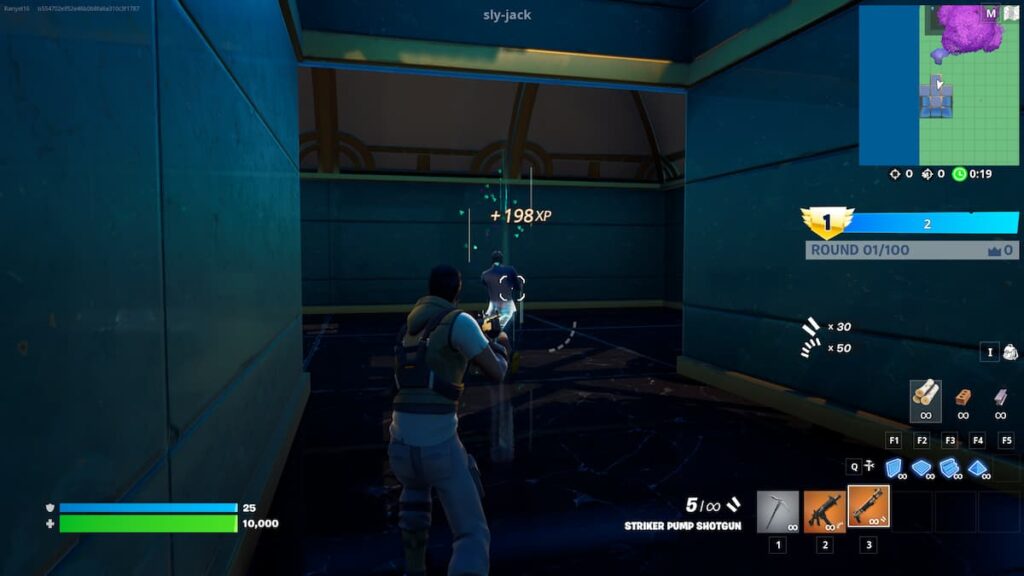 Code: 3229-2138-0756
Kicking off the list is the Slyjack's Movement/Peek course. As the name suggests, it is an advanced aim course that helps you shoot better while peeking or moving. The map has two types of difficulty modes and four types of scenarios. That includes enemies spawning in-front, ramping, above, and below. Also, the AI bot will take down your shield if you over-peek an angle. We recommend using and practicing all kinds of close-range weapons like shotguns and machine pistols on the map. The only downside to the map is that it focuses too much on indoor scenarios rather than outdoor ones.
Raider464's Aim Training Map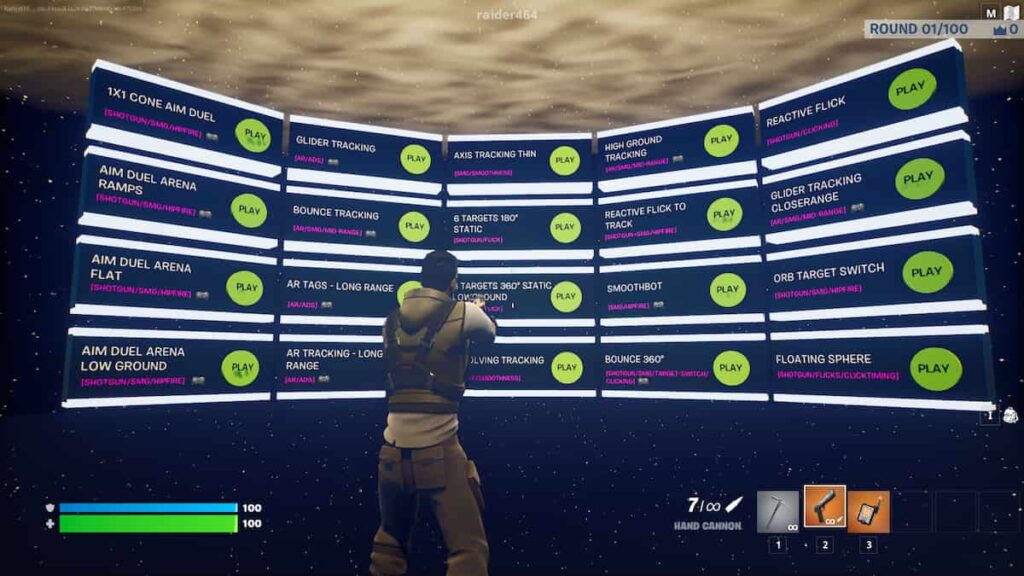 Code: 6531-5731-1207
One of the newest pure aim training courses causing quite a buzz among players is Raider464's Aim Training Map. The creative map has a total of 20 different custom-tailored scenarios, including situations for the newly introduced sliding techniques. Apart from its content-rich objectives, the best part of the course is that developers have provided little insight into the weapons you should pick for each task. It allows you to concentrate on the weapons and situations that need improvement. The course is also catered towards controller or gamepad players as it supports real-time aim assist. We recommend you try tasks like AR tags long-range, Bounce tracking, and Glider tracking if you want to give the map a try!
Doublendude Aim Course
Code: 8850-5991-7075
The most unique and challenging course training on the entire list is the Doublendude aim course. It is a combination of aim training and combat scenario. After entering the code, you will be in a small arena that will mimic in-game scenarios. You will have access to all the weapons in the game in their epic or rare form. The map also features constantly moving bots that cause damage to players. If you are a beginner who is not that confident with your aim or have been losing quite a few matches in the final zone due to aim duels, the course should be definitely on your checklist.
Teadoh's Chapter 3 Warm-Up Map
Code: 7264-2987-8032
This map was made and is regularly updated by popular mapmaker and Fortnite Creator Teadoh. His maps are frequently featured on our lists of best maps, and for good reason. If you just want a solid, all-around great experience with customization options you can set to accommodate to your aim training needs, you'll want to start with this one. It's regularly updated to work with the most recent Season's new game mechanics, meaning it will probably be in this list for months (or even years!).
Piece Control + Aim
Code: 1611-0113-8283
This map is so good at being an Aim course that it also works as a warm-up and weapon training course. In this map, you can pick whichever mode you like, check previous scores, and hone in on your skills with shotguns and ARs. It has multiple timer options, which means you can practice using the gun in short-term, high intense situations, or put your endurance with each weapon to the test!
Skaavok Aim Training
Code: 8022-6842-4965
This has been one of the most popular Aim Training maps in Fortnite for a long period of time, and it is now being updated for Chapter 3. Skaavok Aim Training is another all-in-one map that provides aim training against targets, bots, or other people. When you enter the lobby, you simply pick your weapon, your game mode, and then the settings. They have time trials, free play, warm-up, and PvP, so every practice is available to you. This is one of the best aim training maps we've seen for quite some time!
Edit + Aim Parkour Training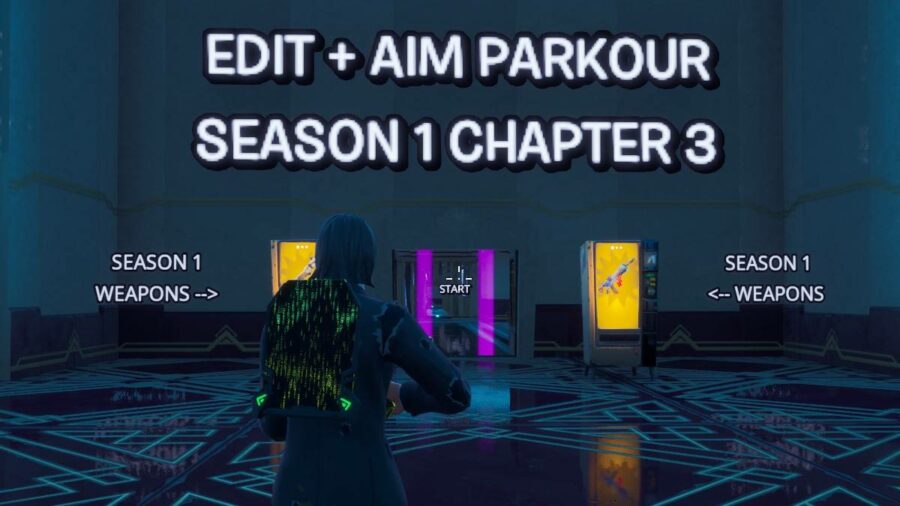 Code: 4691-7411-6945
This map works well as a daily warm-up because it doesn't take a lot of time to complete. It's exactly what the name implies: a warm-up edit course with aim training and parkour. The parkour isn't difficult, it's just there to get you ready for the jumping, shooting, and edits that you will frequently see at the end of the match. It was also made by Pan_Go who is a well-known mapmaker in the Fortnite community.
Warm-up Chapter 3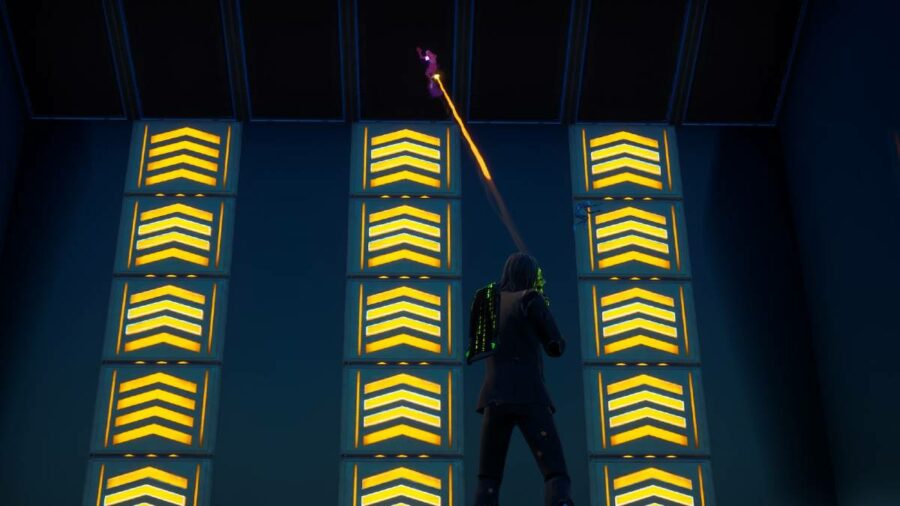 Code: 9235-5574-0144
This is the latest and greatest warmup map that includes a variety of paths to practice whatever you think you could improve. It has aim training courses (the vertical tracking course is pictured below), edit courses, box fights, and more. This map could easily be a contender for the top warm-up map of the entire season, and may even hold strong throughout Chapter 3. If you want to warm up with the latest in-game guns and equipment, this is the best map to do it.