Sometimes, while playing Fortnite, you might feel like the Battle Royale island is swarming with bots. Whether that is a testament to your skill level or is a sign that the game is decreasing in popularity depends on your perspective. If it helps, we can attest that Fortnite is holding steady with its real player count and maintaining its popularity. Here's a breakdown of the stats for the player count in Fortnite.
How many registered players are there in Fortnite?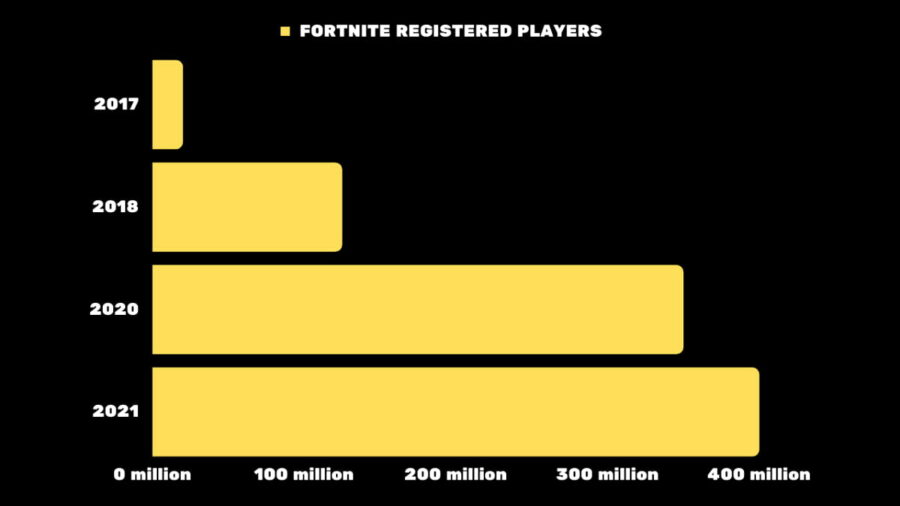 One of the first mentions we can find of registered players for Fortnite is from a Fortnite Tweet that confirmed 20 million registered Fortnite players in 2017. On a news blog from the official Epic Games site, it was confirmed in Jun. 2018 that Fortnite had reached a registered 125 million users. This shows a large jump between 2017 and 2018 in the number of players.
In May 2020, Epic Games stated on Twitter that they have over 350 million registered players. Tim Sweeney, CEO of Epic Games, confirmed in an article for IGN in May 2021 that Fortnite had 400 million registered players. We don't currently have the number of registered users for 2022, but we imagine it has jumped above the last reported number of 400 million.
Many things might change the concurrent player count, such as the time of the year, time of the week, and even the time of the day. This number is much higher in the evenings when kids are home from school and on the weekends when most people are off from school and work.
How many active users are there in Fortnite?
It is widely believed that at any point throughout the day, the active player count is over two million players. Numbers from sites like PlayerCounter are not always accurate, but they give a general idea. Furthermore, Fortnite currently averages four to eight million players at peak times every day, assuming there are no special events.
One of the crowning achievements for Fortnite's number of active players was the Travis Scott event in Apr. 2020. After the event, Fortnite posted on Twitter to boast that the event held 27.7 million unique active players.
How many Fortnite fans are there?
There are undoubtedly tons of Fortnite players, but what about general fans? From sources such as Twitter, Twitch, and more, we can get a more fully-formed idea of how many people like Fortnite enough to follow media outside of the game. Here's a look at the numbers:
Instagram: 25.7 million Followers
Twitter: 14.8 million Followers
YouTube: 11.2 million Subscribers
TikTok: 8.4 million Followers
Facebook: 5.4 million Likes
Twitch: 5.2 million Followers
Suffice it to say, Fortnite is one of the most popular games in the world, and its player count isn't expected to drop anytime soon!
Be sure to check out our Fortnite Homepage to see the latest news, guides, and content for the game!